Import submenu contains options to import data from Comma Separated Values (.CSV) file. These files can be generated by some other application or by Agenda At Once's Export option. You can import To-do, Schedule and Contacts.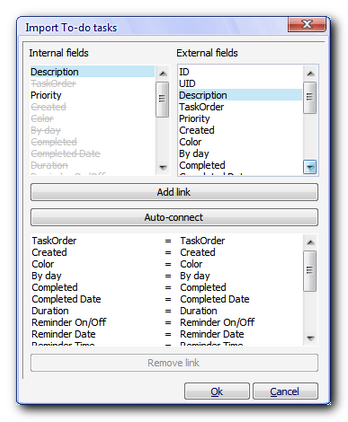 Import window contains three lists.
| | |
| --- | --- |
| Internal fields | This is the list of fields that Agenda At Once supports |
| External fields | Fields found in .CSV file (collected from the first (header) line |
| Connections | List of connected fields |
After selecting one field from both upper lists, use Add link button to connect them and use Remove link button to remove existing connection. Auto-connect option connects fields with same names - you just need to browse through them to correct possible mistakes and/or to add additional links.
See also