If you encounter strange problems with database file, you can run Compact and Repair option. Furthermore, you can run it as part of regular maintenance, because besides of detecting and fixing database errors and inconsistency, it performs internal data optimization and eliminates unused space resulting in smaller file.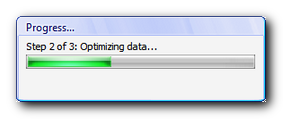 Before process is started, Agenda At Once will offer to execute backup, so there's no consequences in case something wrong happens (with critical operation such is this, you can never be too careful).
Compact and Repair needs exclusive access to a file.
See also