Agenda At Once features powerful and easy to use filters. Filters can be saved for future use, so they appear as tabs at the top of to-do pane. By right-clicking at tabs you will be able to select an option to Save, Rename or Delete, and you can move them by dragging tab to the left or right.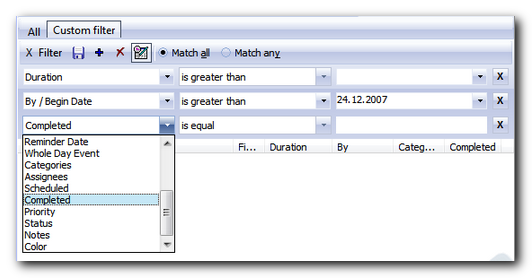 | | | |
| --- | --- | --- |
| | Save | Save filter |
| | Add rule | Add another rule to the filter |
| | Delete filter | Delete selected filter |
| | Apply to Schedule | Apply this filter to schedule too |
| | Match all / Match any | Match all or Match any of defined rules (AND / OR) |
Each rule line contains three controls. Use first combo box to choose field. Second combo box contains list of relations (depending on data type of the selected field), and third control can be text, list or date editor, again, depending on type of the field.
You can remove specific rule by clicking at [X] button at the right end of each line.